Launch of Appricot's web shop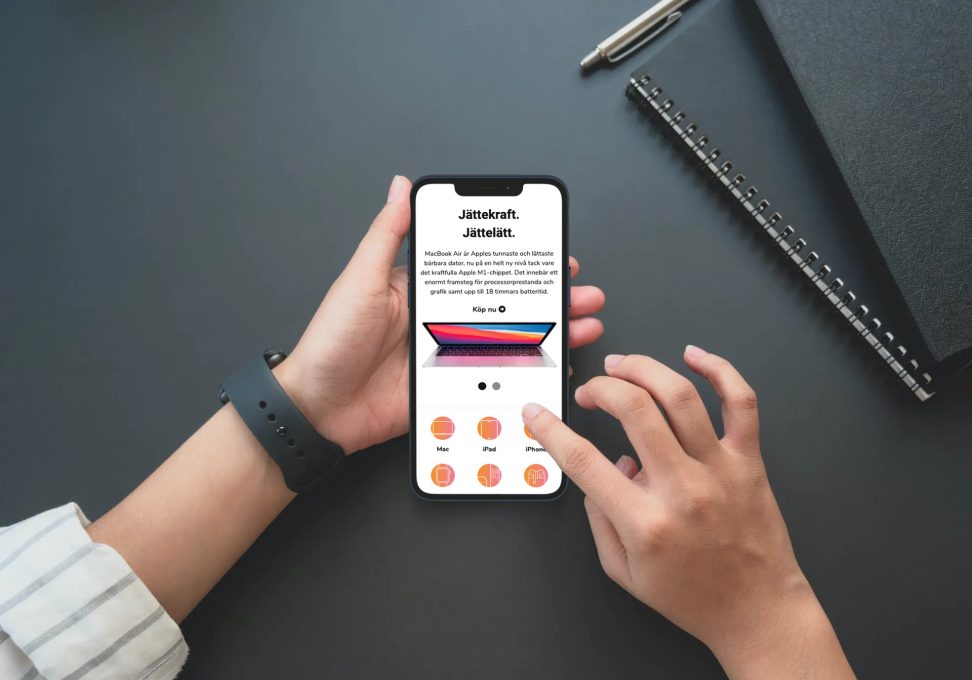 Is it possible to build a web shop integrated with both a PIM and ERP with checkout functionality and shipping solutions? Yes, of course, that sounds like projects that we do regularly. To start the above project without having a decision regarding the systems to integrate with? Sounds like a challenge it would be unnecessary to take on. Design and build an online store to match Apple's high standards for their premium resellers? Nothing we do every day, but how difficult can it really be? Set requirements, design and develop a web shop for a start-up company with many different projects during the course of the web project? Not unheard of, but can also not be classified as a standard layout. To do all of the above in one and the same project, with an extremely tight set but also extremely important deadline? That's exactly what we did in the Appricot case.
A person we had worked with in a previous project contacted us on behalf of a new client. This particular project tickled us extra much because it was for a shop to sell Apple products, which everyone who has met us knows that we have a great fondness for (written by someone who uses Macbook, Iphone, Ipad and AirPods daily). Since Black Friday is now enormous it was of utmost importance to launch until then, and since Apple was a supplier, the guidelines for product presentations are extremely strict.
Reflections from some of those who from our side were involved in the project:
Emma, designer:
"The starting point for Appricot's website was to create a playful but serious website with the user in focus. We started the project with a Corona-friendly digital persona workshop where we found the most important target groups and developed goals for how to reach them. With that as a background we developed the structure and wireframes for the website – always with the end user in mind. The UI design was based on Appricot's gradient which goes in the tones of pink and orange which was complemented by more down to earth and calm shades. The result of the design was a website focusing on Appricot's product range combined with their personal service and expertise. "
Dan, integration developer:
"Getting the product range into the shop was a challenge. Converting from an excel file from an external supplier to a product management system and from there into the shop as different product types was a challenge. But good collaborations between customer and developer together with a little stubbornness usually solve most things."
Oskar, project manager:
"With the parameters listed at the beginning of this blog post fresh in my mind, it's so hard to believe after we went live that we managed to come to terms with it all. Both the entire team involved on our part but also the customer have made great efforts to making sure that the site is one of the most beautiful we have launched in a long time. That makes it even more fun to be able to call yourself a participant in the project, and to be the first to place a sharp order in the form of a pair of headphones for my better half only raises the proudness factor."
 To summarize, we are extremely happy about this project. We look forward to the trimming and further development of the site to further enhance the experience for Appricot's customers. If you ever want to order Apple products, in our opinion there is no better place to do that from than appricot.se.
If you want to build an online shop or need other digital solutions – do not hesitate to contact us!