Universal Analytics ends in July 2023 – time to upgrade to Google Analytics 4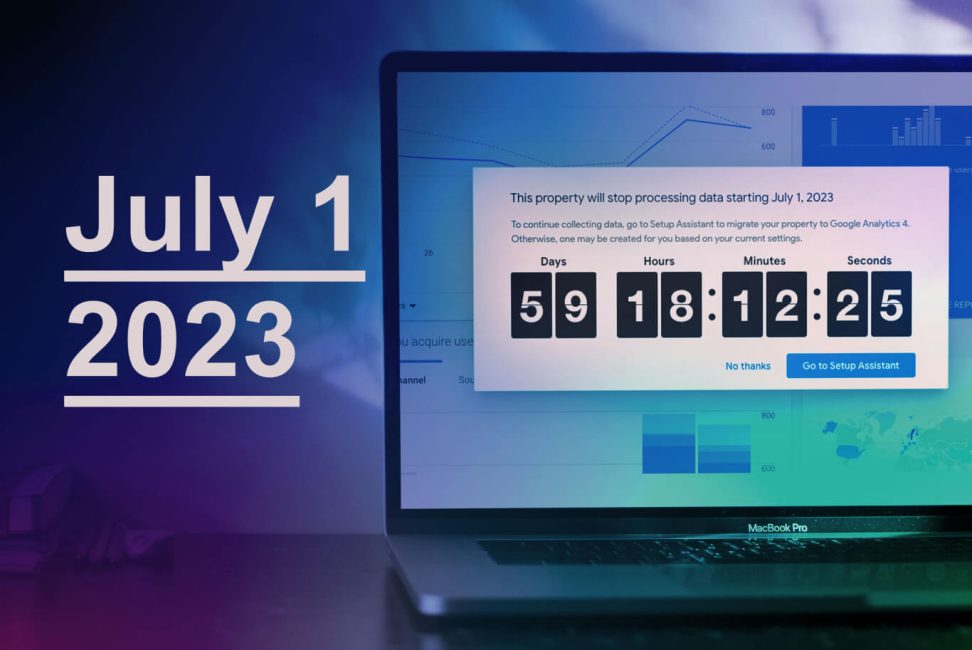 Universal Analytics (UA) will end on July 1, 2023 and will be completely replaced by Google Analytics 4 (GA4). GA4 is the latest version and was released in October 2020. If you have not yet done the upgrade, this should be done as soon as possible, as UA will stop collecting data the same day it ends. In this blog post we will tell you about GA4 and what benefits you get, how it differs from Universal Analytics and how you can think about conversion tracking.
Google Analytics 4
Google Analytics 4 is a tool used to collect event-based data about your site or app. It is free to use, and all data is presented either as tables or graphs. The tool is an important part in search engine optimization or to track the results of digital marketing.
Google Universal Analytics vs Google Analytics 4
There are a lot of differences between GA4 and UA, but some of the most important to know about are:
Data structure
A big difference between Universal Analytics and Google Analytics 4 is how the data is collected. UA divides the user interactions into 3 groups: sessions, pageviews and events. There is also a limitation in the event tracking where four parameters are included. In GA4, all data collection is based on events. Sessions are initiated by sending an event, and up to 25 parameters can be attached to this, making it more flexible and scalable than UA.
Calculation of sessions
Something else that differs is how sessions are calculated. In UA, session time is defined by the time the user actively interacts with your site or app, and predetermined parameters determine when a session ends. Examples of such parameters are that the session is automatically terminated after 30 minutes (depending on settings) if a user registers new campaign parameters or that a new session is started if the user visits the site after the clock has struck midnight.In GA4, an event ID is created so that you can see which session the event comes from. This event then links all subsequent events during the same session to the same ID. It terminates after 30 minutes if the user is inactive but does not automatically terminate at midnight or if new campaign parameters are detected.
Measurement of users
Universal Analytics has two different metrics when it comes to users: new users and total users. Google Analytics 4 has three metrics: new users, active users, and total users. UA focuses on total users and GA4 on active users, so the value can differ depending on how often your users return to the site or app.
Advantages of GA4
Data structure
In GA4, an event-based data structure is used instead of the page view-based data structure that UA has. This means that the data collected in GA4 is based on user interactions on your site or mobile app and not on which pages the user has visited.
Device management
GA4 is focused on managing data from multiple devices such as mobile phones, tablets, computers, and smartwatches. It allows data collected from a user on one device to be linked to data collected from the same user on another device.
Measurement of events
It is easier to measure events in GA4. With an event, we mean, for example, a video being played, a download or a purchase being made. It makes it much easier to track user interactions.
Machine learning
GA4 uses machine learning in analyzing user interactions. This makes it possible to predict behavior and get a better picture of their preferences.
Integration with Google Ads
GA4 has a better integration with Google Ads than UA. It makes it easier to connect the data between these two and get a better picture of which ads work and which don't. We describe this in more detail a little further down in the post.
This is how to switch from UA to GA4
A switch can be time-consuming and involves a lot of steps that must be performed correctly for all data to be transferred and everything to work properly. It is possible to do it yourself, but you need to be careful and set aside time to get everything up properly. To install GA4 and import data from UA you need to:
Create a GA4 account: Go to Google Analytics and create a new account.
Install a GA4 tag: Add the tag to your site. You can do this by adding it to your website code.
Create a data stream: Create a new GA4 data stream using your GA4 account. It is a setting that makes it possible to collect data from your site.
Configure the collection of data: Configure the data collection for the data stream by selecting which events you want to track.
Set up data import: If you want to import data from Universal Analytics into your Google Analytics 4, you can use the data import function.
Make sure all goals and conversions are set: Make sure all the goals and conversions you had in UA are in GA4 as well. This is very important if you use goals and conversions to measure your site's effectiveness.
Test: Test and validate that everything works as it should. This is done by checking that all data is collected correctly and reported in GA4.
After the test, it is important that you continue to keep track. Check that everything works as you intended and that you get the information you need.
Conversion tracking
Something that is important for all types of businesses is tracking conversions. It helps you understand and measure how effective your site or app is when it comes to getting the user to perform the actions you want. This could be, for example, buying a product or service, filling in a form, signing up for your newsletter or clicking on an ad.
If you track conversions, you can get important information about how effective your marketing is and which parts of your site/app can be improved to increase the number of conversions. The information can then be used to test different strategies to find what works best. It can also help you identify problems or bottlenecks in the user experience that affect conversion rates. For example, if you see that many users are cancelling their purchase at checkout, you can investigate why and then adjust.
Conversion tracking and Google Ads
If you have a business that runs Google Ads, you can use this type of tracking to see which ads generate clicks and lead to the actions you want to get from the ads. You can then draw conclusions about what works and what doesn't in order to then optimize your ad campaigns and spend your budget in a more efficient way. Being able to see how different campaigns, keywords and ads affect conversions on the website also gives you more decision support when it comes to optimization. Something else that becomes possible is also to set up your bid strategies depending on what the tracking shows, then you can maximize the return on your investment.
Google Analytics 4 is a powerful tool when it comes to conversion tracking. In order to set it up in the most optimal way for you and your business, knowledge is required regarding how to set up the tracking correctly. In order not to risk something going wrong, we can help you set this up and tailor everything according to your specific business and goals.
We can help you with the upgrade to GA4 and set up the right tracking
GA4 enables your company to track and measure the traffic on your site or in your app. If you currently have Universal Analytics, you should upgrade as soon as possible so that everything will be up and running when UA ends on July 1, 2023. Contact us for help with your upgrade – we will carry it out safely and smoothly!